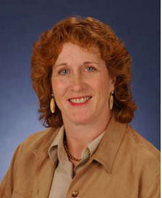 Beth Rand
Beth is an advocate of applying technology-based solutions to leverage employee performance. She has led projects involving the development of online information systems to improve customer service, computer-based training programs, web site development, personalized statements and modeling software for compensation and benefits applications. Her consulting strengths include expert project management skills, as well as technical competencies in finance, human resources, information systems, marketing and customer service operations.
On the creative front, Beth hones her skills by helping companies (most recently in the education, health care and technology sectors) articulate their special brand of products and services both inside and outside the organization. She excels in making organizational strategy into a reality by designing communication programs that work effectively within the existing corporate culture and targeting messages to key stakeholder groups that influence opinion and drive results.
Before co-founding The Adobe Group in 1995, Beth worked as a senior communications consultant for several large human resources and communication consulting firms. She now has more than 25 years of experience as a communication and change management professional. She has also held positions in retirement planning and administration for American General Life Insurance Company and a small consulting firm based in Houston, Texas.
Beth holds a BA in English, with a concentration in Creative Writing. Her awards include a Gold Quill from the International Association of Business Communicators (IABC) and a Helios Award of Excellence in Video from the Orange County Chapter of IABC.